Congratulations on deciding to become a King of the Hammers competitor!
MOTOS 
Race numbers are based on the AMA United States Hard Enduro series. Before registering to race King of the Motos, register or obtain your number for Moto only with the AMA here. Next, join the AMA to receive your license. After you complete these two steps as a Moto rider, you may skip to step five below.  
ULTRA4, DESERT, SHOOTOUT, GAS and Their Subclasses Follow These Instructions
NEW THIS YEAR: registration, garages, wifi, etc. are required to be purchased with the Driver of Record name only. This will help our staff serve competitors and teams more efficiently on the lakebed and in the future.
If you have not raced with us in the past 12 months, email Courtney@KingoftheHammers.com with your top three number choices. Do not complete your registration without confirming a number to avoid scoring issues. If you previously confirmed a number you do not need to take any action. 
When you have a number (new or existing), please update or create your Competitor Profile. This is important to keep updated for our announcers and media.
Purchase Your USAC Competition License. Everyone in a race car must have a driver or co-driver Competition License. Anyone in a remote pit or that touches a race car must have a USAC Crew License. Read through licensing carefully and select the option that fits your class (GAS, KOH Kids, etc.). If racing two classes, you must hold the higher of the two licences. Write down your license number, you will need this to complete registration.
Register by visiting

Driver Registration.


You will need:

Current USAC or AMA License number
Your class and subclass (if applicable). Class breakdowns are listed in Driver Registration.
Medical Insurance information
Car details: OEM, motor, tires, wheels, shocks, etc.

Upload your W-9. A new form is needed yearly to pay purses, the Competitor Payback Program, Team T-Shirt Program and whatever we think of next!
Visit Competitor FAQs for more helpful information.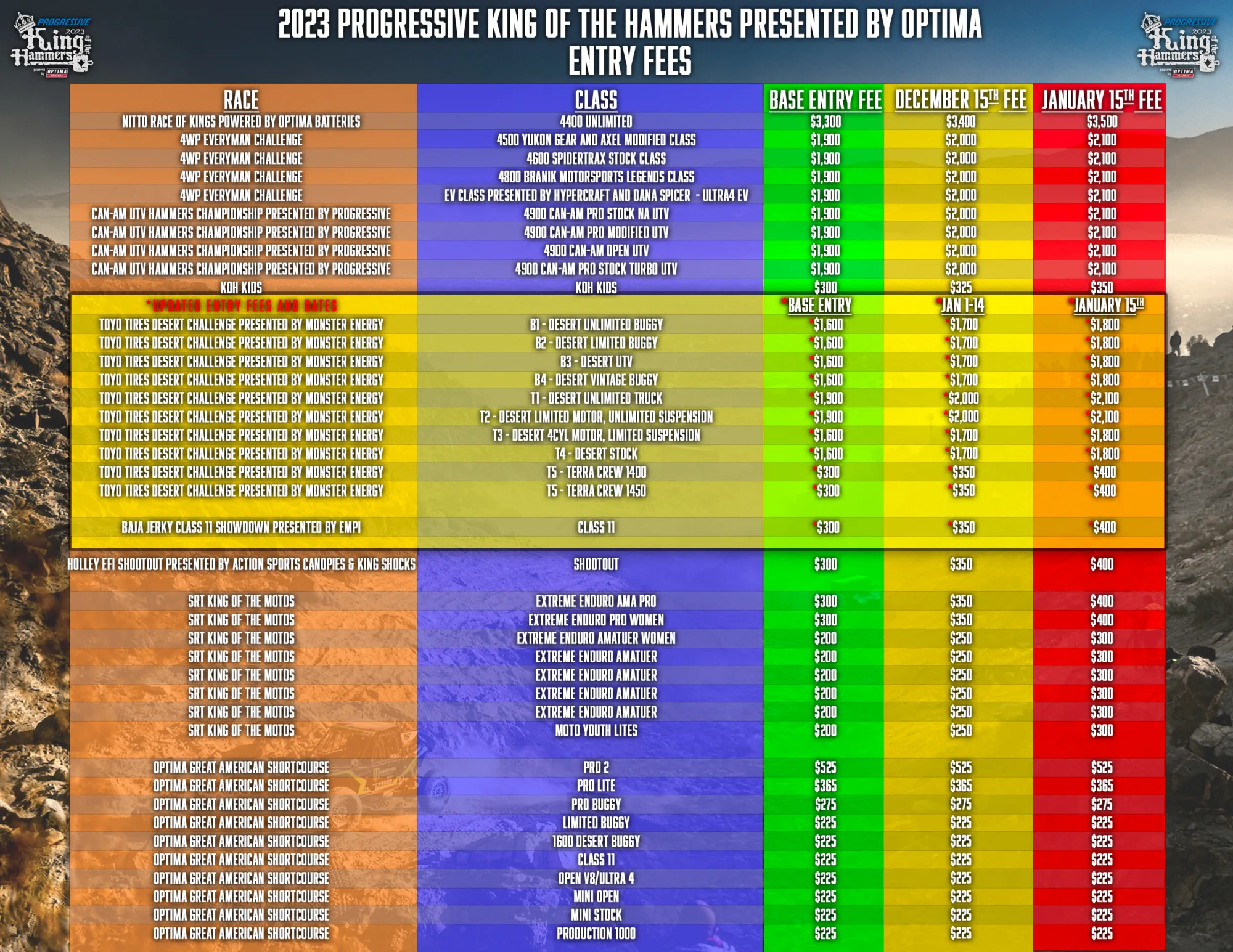 Click graphic to enlarge.
Competitor Payback Program
King of the Hammers believes we should help make racing more affordable for competitors, so we've found a way to put dollars back into your race program through the Competitor Payback Program!  When you register to race King of the Hammers, participants (formerly called spectators), are able to select your name from a menu and you receive $10 of each ticket sold, paid by check to you monthly! It may take up to 24 hours for your name to populate and show available after registering. You do not need to do anything special to be enrolled, it's automatic. This is a great time to market yourself and your team while collecting a check for it! 
Team T-Shirt Program -
Artwork is no longer being accepted. Shirts are being sold through December 11. Thank you to everyone that took advantage of the program to make it a success!
We're excited we were able to utilize the relationships we built as a company to help competitors offer merchandise and brand your race teams, while helping put money back into your race programs. In-line with our Competitor Payback Program, KOH believes racing should be more affordable for our competitors so we're taking steps to make that happen! We produced and sold your custom shirts on our online store and competitors banked $15 back per shirt. There was no cost to enroll, only a small art set-up fee to the printer.
Garages will be available in the Hammertown Portal at a later date. We are currently reviewing availability and will notify competitors when it's available along with instructions and a link.
Race Fuel will be available on the lakebed, as well as pump gas. There will be a preorder for race fuel that will be emailed out closer to the race.
Rulebook, for current Ultra4 Racing rulebook, addendums, and updated UTV classes and tech bulletins, visit: Rulebook
Tech, to find remote tech locations, book your tech appointment on the Lakebed, view updated UTV classes and tech bulletins, visit: Tech Inspection
WIFI will be available for purchase on a first-come, first-served basis through reservations only. Due to the high demand, there are no WIFI sales on the lakebed. We will notify competitors through email when it is available.
Registration consists of: USAC Competition or AMA license, waiver and registration. Every person in a race vehicle or hot pit (remote pits one and two) need a USAC license. One registration per race car, the co-driver does not need to register.